Venison Pastrami
Report Violation
---
1 of 1 Photos
ByronM
Upload Pic

Review it
|

Email Recipe
| |

Print
Ingredients
Forgive if someone else had posted this already, but it turned out so good I had to share!!
Recipe is for 10 pounds of meat. Remove the largest muscle meat from the hind quarter (venison), clean all membranes and junk off of it. Make a brine consisting of 2.5 gallons cold water
1 cup instacure #1
1 lb kosher salt
2 lbs powdered dextrose
1/2 cup granulated garlic
1/2 cup granulated onion
1 cup pickling spices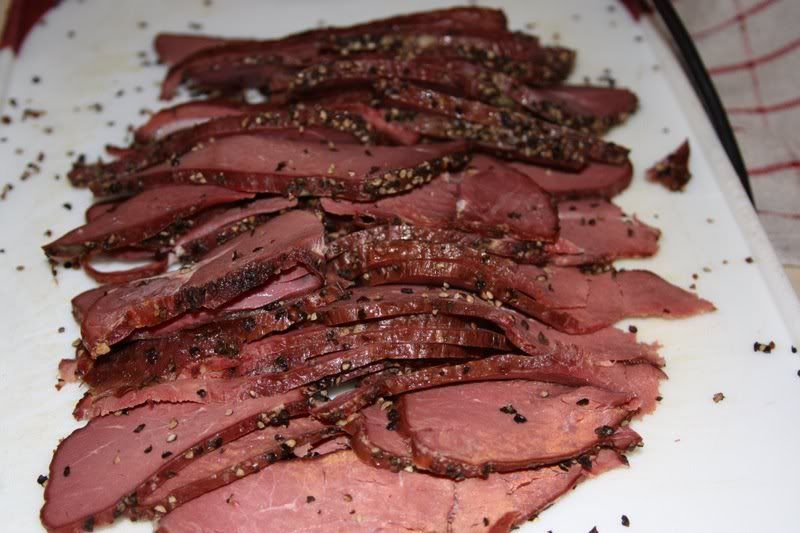 Directions
Inject meat to 10 percent of whole weight. Place meat in a crock covered with the brine. Place in a fridge maintaining a temp of 36-40 degrees, keep in brine for seven days. Wash meat off to remove Pickling spices, apply coarse black pepper, put in a preheated smoke house at 120 degrees for one hour to dry. Increase heat to 140 degree's and smoke for 8 hours (I like hickory or Cherry). continue to rest meat at 140 degrees for an additional 8 hours, increase smoker gradually to 220 degree's until you reach an internal temp of 165-170 degree's in the thickest part of the meat. remove to room temp for two hours, place in fridge overnight, slice and enjoy!!


No Review has been added yet